O relatório Doing Business 2012 publicado hoje pelo World Bank revela que Portugal manteve a 30ª posição no ranking ease of doing business.

Para esta prestação contribuíram mais positivamente os seguintes rankings:
• starting a business – 59º em 2011 para 26º em 2012
• dealing with construction permits – 111º em 2011 para 97º em 2012

Por outro lado, alguns rankings apresentaram uma evolução negativa, como por exemplo o ranking getting credit onde Portugal passou do 89º lugar em 2011 para 126º em 2012.

O relatório faz referência a duas reformas estruturais levadas a cabo em Portugal. A primeira está relacionada com o ranking starting a business e consistiu essencialmente na eliminação do capital social mínimo para formar uma sociedade e na eliminação de taxas. A segunda está relacionada com o ranking dealing with construction permits e teve que ver com a desburocraterização do processo de emissão de licenças de construção.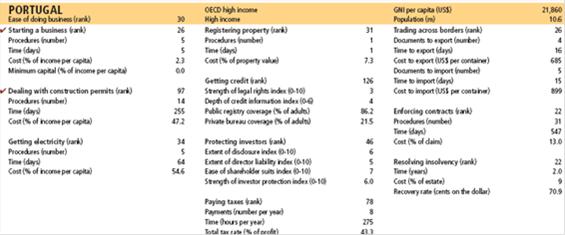 (Tabela: World Bank)